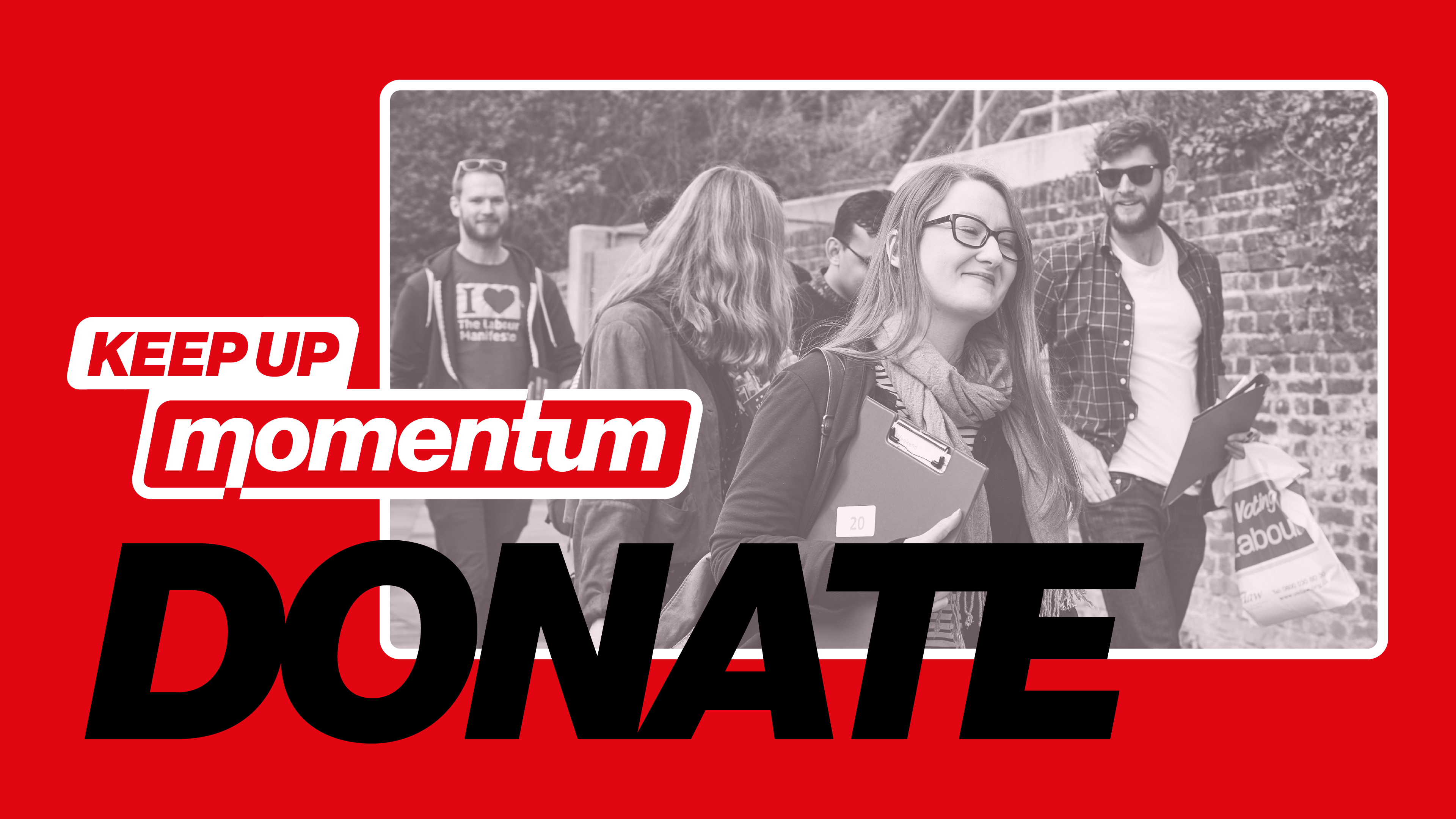 Can you help Keep Up Momentum?
**Our Keep Up Momentum fundraiser ended on 15 December, with hundreds of you upping your subs or starting a recurring donation. Thanks to the generosity of our members and supporters, we're in a much stronger position. But all support is gratefully received – if you can up your subs, then please consider doing so. Thank you!**
In the last seven years we have built a powerful movement for socialism. Despite the current political challenges, and amidst Starmer's attacks on the Left, we've continued to organise nationally and locally, training and electing hundreds councillors, supporting inspirational SCG MPs like Zarah Sultana, campaigning for popular socialist policies and to support striking workers and winning crucial Labour Party committees like Young Labour for the Left.
But right now, Momentum is struggling. As a membership organisation without big money donors, we've been hit hard by soaring inflation and attacks on the Left. Without your financial support we won't be able to keep doing what we're doing – and we can't let everything our movement has built disappear.
That's why we're asking our members to up their subs at the price of a coffee every month, and our supporters to set up a recurring donation to us. We can't continue to do what we do without you. So help us secure Momentum's future.
What does Momentum do?
You can read about our strategy below, but here's just some of what we do:
We win power in the Labour Party –

by running successful campaigns to elect socialists to the NEC, winning elections for Young Labour and Labour students, and campaigning for socialist policies at Labour Conference and locally

We build socialism at the grassroots –

by supporting Local Momentum Groups to organise in the Party and in their communities, rolling out our Community Wealth Building toolkit and training councillors to deliver it, and developing hundreds of future Labour councillors through our Future Councillors programme

We run campaigns,

like Labour4labour, supporting striking workers and taking their demands into the Labour Party to pressure the leadership to get off the fence and back the workers

We deliver cutting edge political education programmes

, such as the Leo Panitch Programme, which trains up the next generation of socialist organisers and leaders and our Trade Union Day-school.

We produce digital propaganda that reaches millions

, attacking the Tories and arguing for socialist ideas and solution to the cost of living crisis and climate change

We work closely with the Socialist Campaign Group,

defending them from right-wing attacks and working together to maximise the Left's influence in the Party and in the country

We support candidates to stand for Parliamentary selection

, by providing strategic advice and training them to run effective campaigns
What is Momentum's current strategy?
As a general election approaches, we need to boot out the most right-wing Tory Government in decades and we need to elect socialist Labour MPs. But at Momentum we think it's crucial we build for the long-term. Because while the right currently control the Labour Party, it's clear that they or the Establishment don't have the answers to the crises we face, from climate chaos to the cost of living.
We know there are limited opportunities for the Left to win massive victories right now, so we are building foundations and thinking about the future. Going forward, Momentum will be defending and strengthening Left power bases by working with socialists in positions of power and electing more alongside them, in local government and in the Party. We'll continue to develop a new generation of socialist organisers on the ground, through training programmes and by supporting local campaigns in the Party and Local Government, and we'll continue to link up with social movements to make sure their demands are taken into the Party.
Where does Momentum's money go?
Momentum is almost entirely funded by our members. Unlike the Right, we don't have big money donors. The majority of our income is spent on our core operation. This includes our office and digital systems, which allow Local Groups to organise and enable us to manage our member and supporter database, which is key to how we mobilise effectively for Labour elections and more. 
Staffing accounts for the majority of our core costs, and we have an Organising Team, a Campaigns and Activist Development Team, a Communications Team, as well as our Operations and Digital Teams. Most of our staff are based in London, but since 2020 an increasing number are based around the country.
Many staff members will work closely with members, providing guidance and direct support to help with local organising efforts, while also running national level mobilisations such as Labour4labour, internal elections such as the recent NEC election, or helping members resist unfair suspensions from Labour. Our staff also work closely with MPs and trade unions, to ensure the Left cooperates from the grassroots to the workplace to Parliament.
 Your increased subscription will directly fund our fantastic staff to carry out our vital organising work in the Party, making possible wins like Young Labour elections, the selection of future councillors and the training of current ones, as well as political education programmes to skill-up the next generation of leaders and organisers.

Copyright © Peoples Momentum 2015 ― 2023
All Rights Reserved