POLICY PRIMARY
Shaping the agenda for Conference 2022

Results are in for Momentum's Policy Primary
The votes are in and we're excited to share the results of our second Policy Primary.
The five winning motions are the basis of a transformative vision we will take to this year's Labour Conference.
In addition to the five motions voted on by members, the NCG has also put forward two motions on building a socialist immigration policy and one pledging to overturn the draconian Police, Crime, Sentencing and Courts Bill.
You can read the two additional motions here. 
Nearly 2,500 Momentum members and numerous campaign groups took part in our Policy Primary, demonstrating the ideas and energy that power our movement
From public ownership of energy to repealing anti-trade union laws, Momentum members have produced a radical programme to tackle the cost-of-living crisis and put power back in the hands of the people.
You can view the 20 motions that went to ballots here.
Additionally, Momentum will consider voting for or against every motion that comes to Conference floor. That includes motions submitted to the Policy Primary which were unsuccessful.
How it works
After a movement conversation, Local Momentum groups, unaffiliated campaigning organisations and affiliated organisations/trade unions submitted policy motions to be part of the Primary.
Following compositing and shortlisting, the motions now move to a one-member-one-vote ballot, where every Momentum member will rank the motions they believe we should be pushing.
The 5 most popular motions will be chosen for Momentum's 2022 conference mobilisation.
If we're going to change the Labour Party and the country, we need to make the big decisions about the future of our movement together.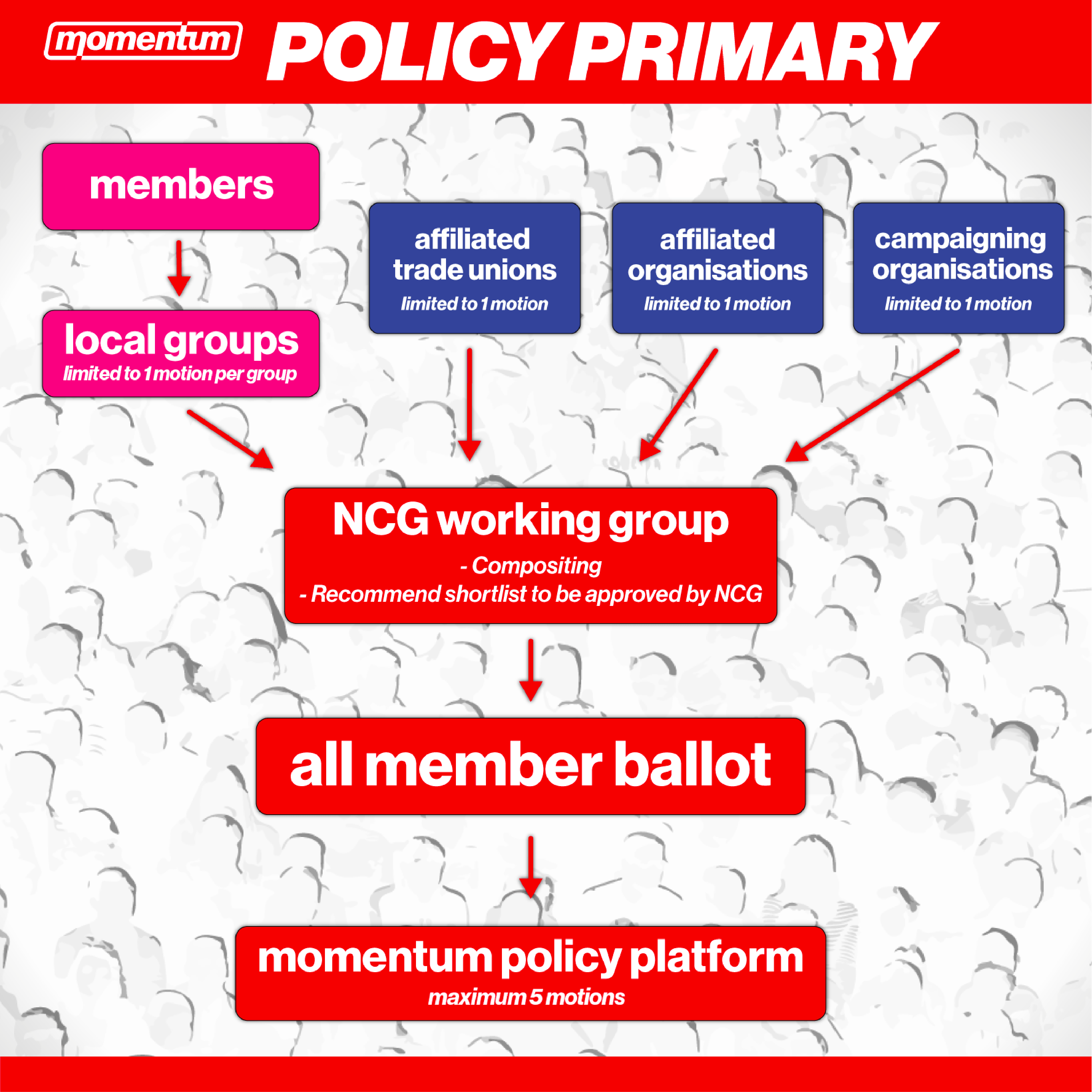 Policy Primary Guidance
If your local Momentum group wants to participate in this year's Policy Primary, then read the guidance below. 
And if you want to find out more about how we're selecting rule change motions for this year's Labour Party Conference, then read about this separate process here.
BE PART OF THE MOVEMENT
Sign up for updates

Promoted by Rachel Godfrey Wood on behalf of Momentum Campaign (Services) ltd. both of Northover House, 132a Bournemouth Road, Chandlers Ford, Eastleigh, Hants, United Kingdom, SO53 3AL
Copyright © Peoples Momentum 2015 ― 2023
All Rights Reserved