POLICY PRIMARY
Shaping the agenda for Conference 2021

We want to leave this year's Party conference with Labour democratically committed to transformative socialist policies that can meet the challenges we face, from Covid-19 to climate change.
To do that, we need to harness the biggest strength of our movement: the ideas, energy and creativity of our members.
That's why, for the first time ever, Momentum is holding a democratic Policy Primary, so every member gets to decide the policies we campaign for at Labour Party Conference 2021. This is a major step forward in our plan to become a truly member-led organisation.
How it works
Local Momentum groups, unaffiliated campaigning organisations, and affiliated organisations/trade unions can all submit policy motions to be part of the Primary.
After compositing and shortlisting, the resulting motions will move to a one-member-one-vote ballot, where every Momentum member will get the chance to vote for or against motions, and rank their favourites.
The most popular 8 motions will be chosen for Momentum's 2021 conference mobilisation.
If we're going to change the Labour Party and the country, we need to make the big decisions about the future of our movement together.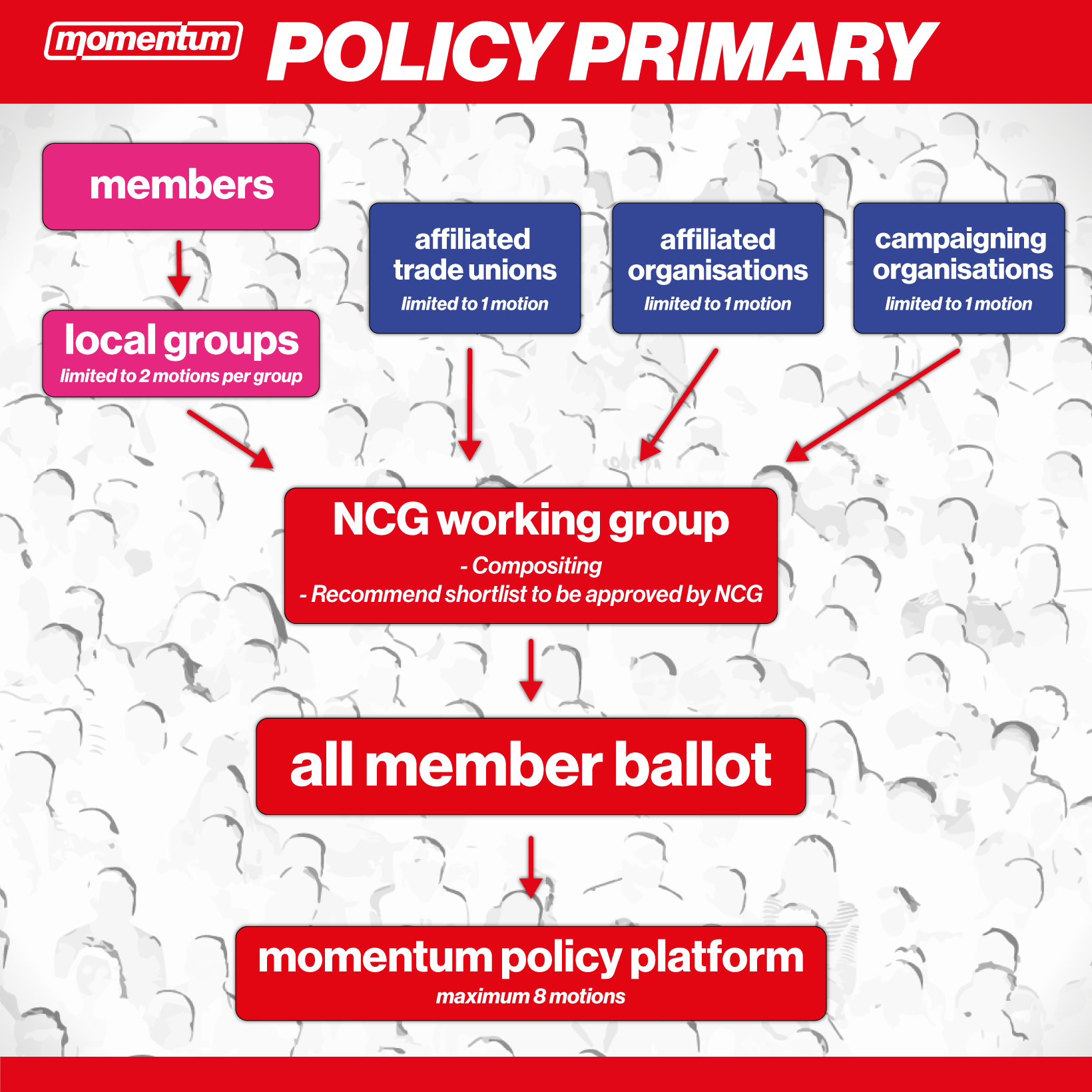 Policy Primary Guidance
If you and your local Momentum group want to participate in our first ever Policy Primary, then read the guidance below.
And if you want to find out more about how we're selecting rule change motions for this year's Labour Party Conference, then read about this separate process here
Policy Primary Timeline
The following timeline is outlined in greater detail in our Official Policy Primary Procedures and Guidance.
19th January ― timeline and guidance sent to Momentum members.
31st January ― Deadline for unaffiliated organisations to apply to participate in the process.
23rd February, midnight ― Deadline for groups to submit motions on My.Momentum.
Early March ― NCG Working Group to compile recommended shortlist of motions, liaising between all organisations involved to agree on motions to be recommended, redrafting, compositing, otherwise changing motions where necessary.
16th March ― NCG Working Group submits recommended shortlist of motions.
17th March ― Full NCG meets to discuss.
24th March ― Members ballot opens on My.Momentum.
29th March ― Members ballot closes.
Early to mid September ― NCG decides what to prioritise with preference for motions backed by members.
Submission
Please note that the deadline for submission for motions and rule changes is 23rd February, midnight.
Want to submit a policy motion on behalf of your local Momentum group? *
Want to submit a rule change motion?
*This option will be available from 27th January, and only for registered local group Data Protection Administrators. DPAs can submit up to two motions which have been discussed and agreed by their local Momentum group (see the Policy Primary Guidelines for more information)
BE PART OF THE MOVEMENT
Sign up for updates
By clicking "Submit", I agree to Momentum using the information I provide to keep me updated via mail, email, telephone and text about Momentum's campaigns and opportunities to get involved, both locally and on a national level. For more information please see our Privacy Policy.