Hello comrades,
This month we bring you news of the ongoing Kill the Bill protests, a Q&A with the comrades at Bristol Momentum and a closer look at the dark financial past of our Class Enemy of the Week: the Glazer family. Enjoy.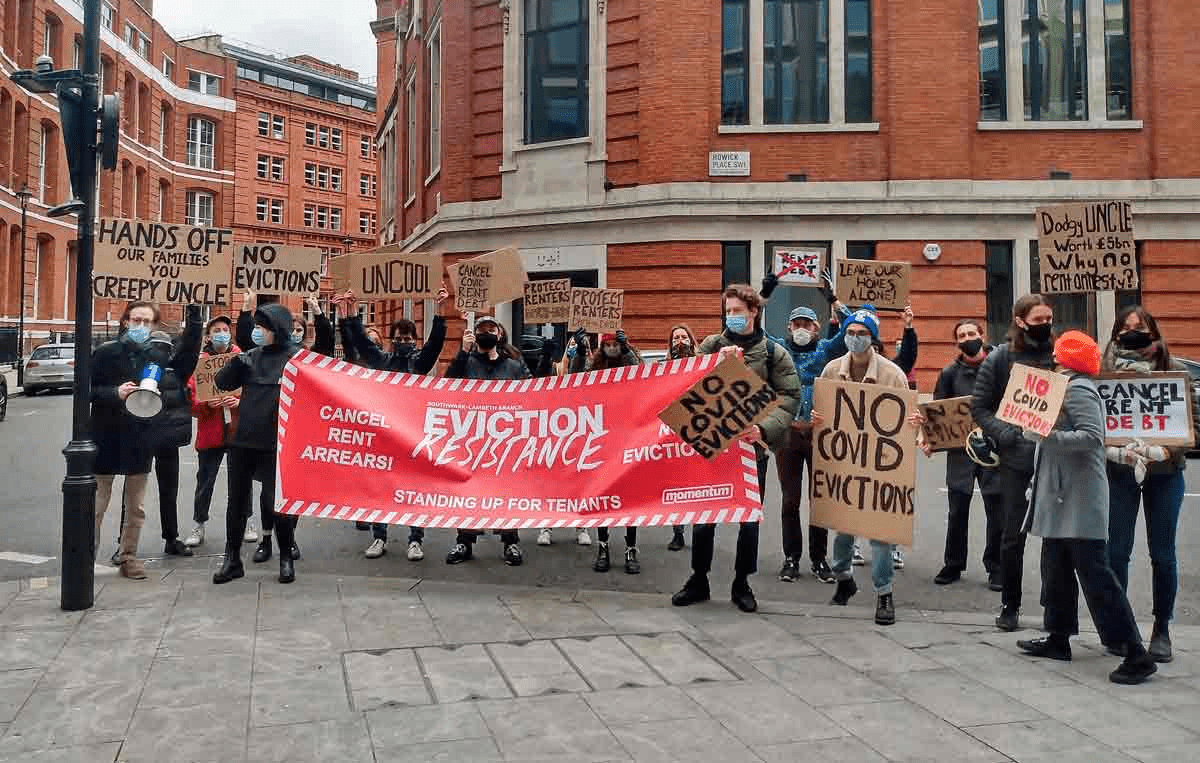 Policy Primary. For the first time, our movement has collectively decided on the policy platform that we take to Labour Conference. Thousands of members voted for eight brilliant policy motions, ranked in order below. For more detail on how the process came about, and how the NCG hopes to improve the process for next year, read our special report further down the page. To read the motions in full, click here.
• 💸 £15 minimum wage 💸
• 🗳️ Time for proportional representation 🗳️
• 🌍 Global climate justice 🌍
• 🏠 Build council housing and end homelessness 🏠
• 🌱👷 Green jobs revolution🌱👷
• ✊ Build back fairer: attack poverty and inequality✊
• 🏥 Reject integrated care systems, renationalise England's NHS, Social Care 🏥
• 🏖️ A four-day week for a society in which we work to live, not live to work 🏖️
Kill the bill. Protests against the government's authoritarian anti-protest bill continue on May Day, with Momentum members across the country set to attend demonstrations in approximately 40 locations. Click here to find your nearest protest. Resistance to the bill is growing and if the pressure is kept up there is a real chance of seeing it scuppered before it is passed. If you're going to a demo with your local Momentum group make sure to take some pictures and send them on to us so we can post them on the national Twitter account: [email protected].
Fire & rehire. As documented in previous issues of the Organiser, under the cover of the pandemic bosses across the country are using fire and rehire tactics to suppress wages and eke out as much profit from their workforce as they can. Earlier this month 500 British Gas workers lost their jobs after refusing to sign contracts that would have seen a 15% real term decrease in their wages. But the trade union movement is fighting back. Unite has launched a campaign, supported by the Labour Party, demanding the government end fire and rehire. The union is also using its strike fund to support bus workers in Manchester whose employer Go North West are trying to force them onto new contracts. For more information on the campaign, click here.
Eviction Resistance. On 10 April, Eviction Resistance groups across the country took to the streets to take action against big local landlords and dodgy letting agents in response to the looming eviction crisis. Groups demanded the end to rent debt while naming and shaming the culprits in their local areas who plan to evict tenants onto the streets. Why not join the next action in May (date TBC)? To join an action group near you, click here. In order to scale up our actions, we're aiming to raise £3k by the end of the month. If you want to support the campaign you can chip in here.
⁃ As part of Momentum's new strategy to develop movement leaders and organisers at every level, this summer we are launching the Leo Panitch Leadership Programme. For more information and how you can apply, click here.
⁃ The policy primary is done and our members have committed to a range of transformative policies for Conference 2021. We will be circulating rule changes shortly, so keep your eyes open for those.
⁃ We've got our policy platform, but now we need the delegates to pass the motions at Conference. CLPs have until 11 June to elect socialist delegates to Conference. For more info, click here.
⁃ CLPs can now nominate for the Conference Arrangement Committee and the National Constitutional Committee. Women's branches can nominate for Women's Committee and Young Labour branches can nominate for Young Labour Equalities Officer positions, but CLPs can nominate if there is no such branch covering them.
⁃ The NEC Development Fund is a Labour Party scheme to give financial support for specific CLP projects. We encourage CLP officers to apply. If you have any questions on how to put a good bid in on behalf of your CLP – deadline 27 August – please contact rachel.godfreywood@peoplesmomentum.
⁃ The Rosa Luxemburg Foundation is once again running it's Organising 4 Power programme, a free educational programme to train organisers across the world. Those who apply to the programme must do so in groups of at least 10. If you are interested, then email or message Santiago at
[email protected]
or 07870537390.
⁃ We're going to be re-launching our Future Councillors Programme after May elections. So if you're a socialist who wants to make changes in local government, then keep your eyes peeled. Read the profiles of two of our socialist council candidates standing for election in May on Labour Hub, here and here.
If you want your local group activity to be included in The Organiser then please email us at [email protected]. We'd love to hear from you.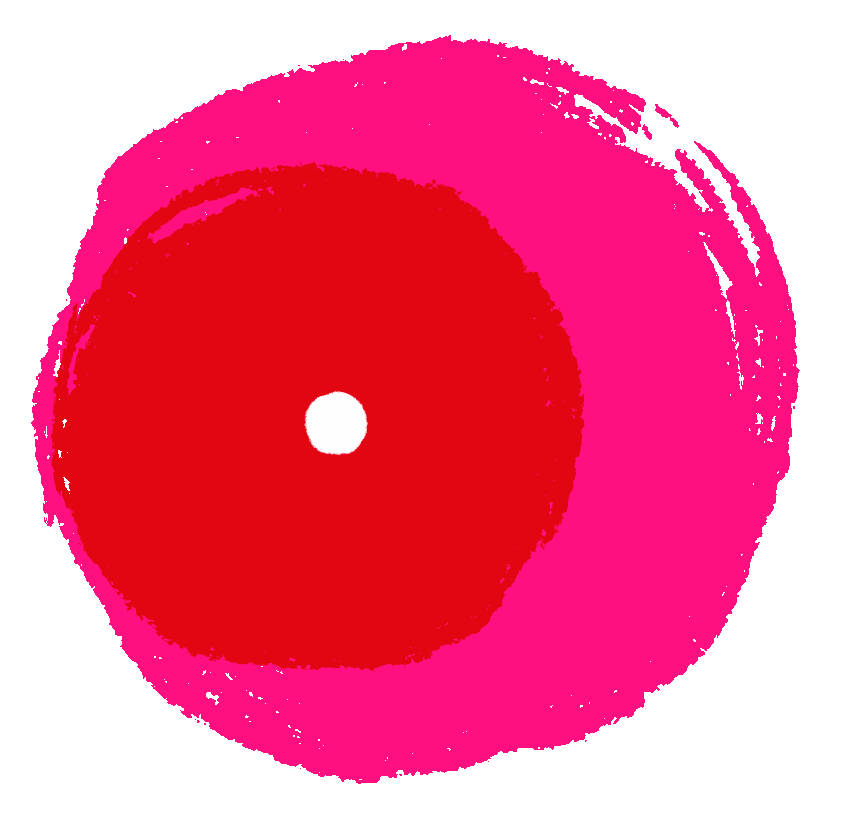 This month we talk to
Andrea Gilbert
, a Momentum member in Wandsworth and co-lead of the Wandsworth Eviction Resistance action group. We ask her about her move from housing campaigner to Labour activist, the member who encouraged her to get more involved and how finding a group of like-minded comrades has changed her life for the better.
When did you first realise that you needed to be organising inside the Labour Party?
In 2016 I saw that Jeremy Corbyn was getting bullied by the press and within the Labour Party and joined to vote for him in the leadership contest. But at that point I wasn't really interested in being that involved with the Party.
At the time I was a anti-homelessness activist, and I was working for a local homeless organisation. I was getting frustrated because I just saw that there was nothing else that I could do to make things better for people. It needed more. The changes that I wanted to make, the managers would, you know, either dismiss them, or they just weren't able to deliver them. The funding for housing can only come from the council and central government.
So I basically emailed every single councillor in the Wandsworth borough. And I started talking to them that way. There was interest from all sides, but Labour were more empathetic, whereas it felt more like a PR stunt with the Conservatives.
What happened to get you campaigning?
One of the prospective parliamentary candidates for Putney, Bonnie Craven, got in contact with me. We have a lot in common in that that we're both teachers and single parents. It was just a really, really good conversation. I wasn't involved in the party at all then but she just called me out of nowhere and encouraged me to campaign.
Funnily enough, the first ever canvassing I did was on the estate that I grew up on in Roehampton. I took Bonnie around and introduced her to the people that I grew up with. The council have regenerated the playground and made it into a car park now for commuters. I made sure to highlight that.
I'm also involved in my local Momentum group – Wandsworth Momentum – and it was there I was able to propose the motion to build council homes and end homelessness for the Policy Primary. It got really, really good support. Honestly, I was so thrilled.
How has being involved in organising changed your life?
The people I've met through my activism, I wouldn't even say they're friends, I've got family out of it now. At the end of the day, I'm now amongst like minded people who just want to change the world. And that hasn't always been the case for me. Before I would try and create campaigns out of nowhere, whereas now I support others' campaigns as well. In under a year I've learned how to organise properly.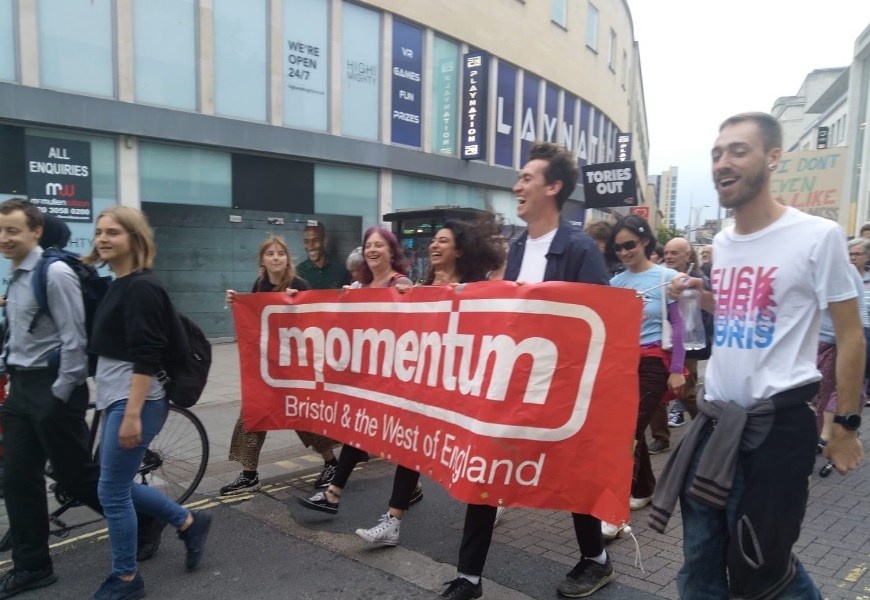 In the anti-democratic crackdown on left-wing members by the Labour right, the socialist stronghold of Bristol has appeared to bear much of the brunt.
Momentum NCG member Darran Maclaughlin was suspended from his position as co-chair of Bristol West CLP after holding an emergency general meeting to hear a motion in support of Jeremy Corbyn; the subsequent AGM was cancelled because, according to the Party's regional office, members hadn't been 'adequately informed' of the meeting and Maclaughlin's suspension meant that there would be no one to chair it; the re-scheduled meeting – organised by the regional bureaucracy – was so shambolically run that that it ended up taking 5 to 6 hours with 20 per cent of those present unable to vote; and, lastly, a handful of prospective socialist council candidates have also been suspended for mild criticisms of Keir Starmer on social media.
We hear from Momentum member Isaac Kneebone on the anti-democratic manoeuvring and how, despite the attempts of the Labour right, the socialist culture Bristol Momentum has been cultivating remains strong.
What's been going on in Bristol?
My take is basically that like, what you have is a kind of bureaucratic machine that is so wilfully poor at party management that trying to distinguish between outright corruption, and just mismanagement and incompetence is almost impossible.
I think that the original AGM was cancelled, because they were scared that the left was going to win, and they wanted more time to mobilise the right, which is why you have Thangam Debbonaire using her contact lists and getting people to call members on her behalf and campaign for the right-wing slate. They are more interested in attacking the left than actually winning elections.
By using that kind of sledgehammer approach on the left, they're wilfully trying to demobilise people who've basically been doing their jobs for the last like three or four years, and have massively built the party in the city. Bristol West CLP is one of if not the biggest CLPs in the country. But they think that it is a liability for them, because it doesn't fit with their narrow right-wing view of politics.
How do you all see your work both inside and outside the Party?
We still believe that the party is an essential vehicle for change. And it's still definitely a place where people who are interested in creating a better society that is where they can be drawn to and can be found. So it is kind of our duty to be involved, and try and help those people to be as effective as possible.
I think what we see is that the Labour Party isn't the only site of struggle. And so what you'll see from both Bristol Momentum and Bristol Transformed is trying to get people more involved in their workplace unions, as well as groups like Acorn and other tenants' unions.
We've also got lots of other activists that have been involved throughout the pandemic in the National Food Service, which is campaigning to have a national food service as well as fight food poverty. Something like one in 10 people in the city or something like that have been fed by NFS. A huge amount of the Bristol population were fed by radical socialists during a pandemic.
And what they're doing is sort of creating a socialist culture that is wider than the Labour Party. Hopefully we can then use that leverage to run CLPs and not just squander them and actually use the kinds of networks and resources that come from running CLP actually transform the city, rather than just doing what the right want to do which is basically sit on them and let them wither away.
What advice would you give to other groups?
There's a number of things. Trying to have spaces for ideas and discussion outside of the kind of crushing tedium of left wing bureaucracy and party bureaucracy is really important. One of the things that we've tried to do is have social gatherings as well as political meetings. Trying to ingrain that being on the left is part of people's lives, and that they're part of a community. It's not just this burden, where they pay penance because they feel guilty.
It should be something that's a pleasure to be part of – something that builds them as a person and is a positive experience for everyone involved. And I think actually having parties and having coffee mornings, and having big communal meals together has been really positive.
People shouldn't be kind of scared of kind of trying to organise specifically among young people. I think that often when young people are new to the left, sometimes the full experience of either an event or meeting can be a bit like people arguing through beef that's been going on for thirty years, with no idea what anyone is talking about. So it's important to make sure that there are people there who are a point of contact. Someone who can tell them what the hell is going on!
'It was a reminder that the left is still strong'
A reflection on Momentum's Policy Primary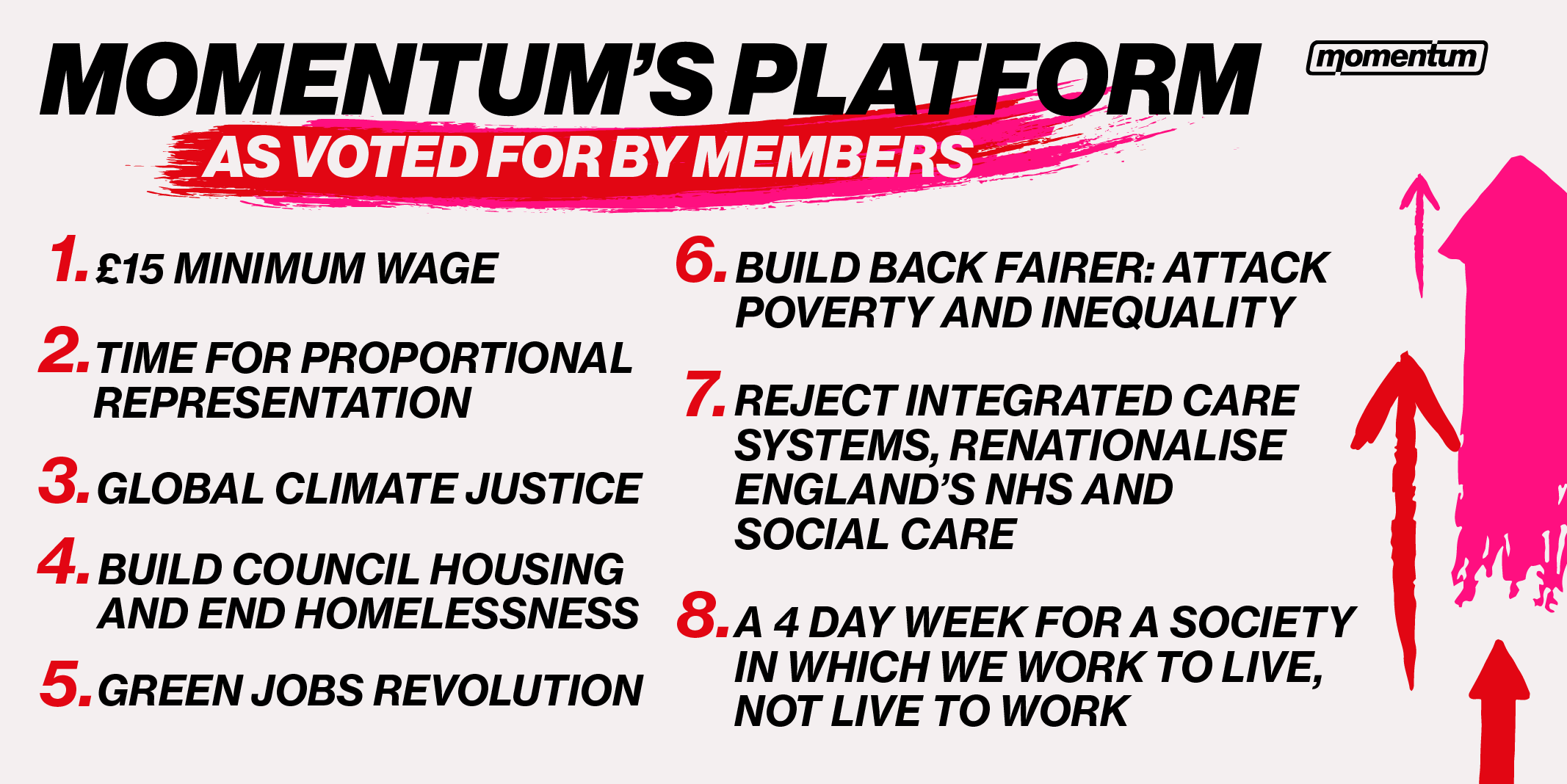 For the first time in Labour left history, Momentum's policy platform for Labour Conference was, rather than being hashed out behind closed doors, decided by a vote of thousands of our members. It's a democratic feat that has been a long time coming, but one our movement should be proud of.
We now have a set of eight radical policies that we can all get behind. But as Momentum NCG member, Deborah Hermanns, points out, this can only be the beginning of our efforts if the motions are to be passed at Conference.
"The next, really important step is for CLPs to be electing left-wing delegates," says Hermanns. "We are going to need plenty of people-power to win majorities on the Conference floor."
And it's not just policy motions that we'll be taking to Brighton in September. Momentum's NCG also has a working group that is deciding on rule changes. The full list is yet to be decided but there are three rule change motions set in stone – an elected general secretary, democratising the NEC and protecting the rights of members.
Members will have to pass both a policy and a rule change motion in their CLPs to ensure that they will be heard at Conference. There is lots to do before September, but if we get organised there are opportunities for some major victories for the Labour left.
Now, enough from me.
While the feedback we've had from members on the policy primary has been overwhelmingly positive, there have also been some warranted criticisms which we believe we should address.
Below is a Q&A with the NCG Policy Primary Working Group on how they thought the process went and how they want to improve it for next time.
Why did Momentum hold a Policy Primary?

Our main objective was to have the political priorities of the membership fully reflected in our Labour Party Conference campaign. The best way to do this was to run a democratic process whereby the membership proposed and decided on the motions we should prioritise.
This is especially important in a period when the policy direction of the Labour left is less determined by the leadership of the Labour Party. At times over the last five years the grassroots did set the agenda but we need more of this going forward.
If Momentum is to grow and thrive, we have to become an organisation that does more than just mobilise for elections, and become one in which there is a thriving democratic culture of participation and engagement all year round, where members get a real say in the critical decisions that determine what Momentum does. This is obviously something that will take time, but the Policy Primary is one part of this shift.
What went well?
It was really inspiring to see so many Local Momentum Groups and allied campaign organisations get involved, draft motions and host events or hustings. This level of participation shows us that members do want to play a greater role in making these decisions, and also that Momentum sits within a wider web of socialist and progressive organisations. In this sense, it was a reminder that the left is still strong in and around the Labour Party.
We are also very happy with how the digital element worked. The system that was designed and delivered by our staff overall worked well and provides an insight into the possibilities of MyMomentum as a platform for digital democracy, though of course we came up against limitations of resources and time. Considering this is the first time Momentum has tried something like this, we're happy with how it went.
What would we improve?
Any time a new process like this is trialled there are always challenges that need to be overcome and changes that need to be made for the future.
From our own reflections and the feedback we received there are a number of things we could improve. This includes having more time from the publication of motions to the close of ballot (which was two weeks) to create more space for movement-wide deliberation. We think this would allow people to better draw the links between different motions and think in terms of building a more interconnected platform to take to Conference, and not 8 single motions.
We'd also like to help facilitate a broader discussion about the strategic thinking behind what makes a good and timely motion, beyond whether it is a sound policy or not. It would be about linking up more effectively questions of strategy and policy.
Additionally, we'd like to do more to help members not involved in Local Momentum Groups engage in discussion with other Momentum members, though this must be understood under the broader goal of helping to support the development of a democratic culture throughout the organisation, and not just something specific to the Policy Primary.
These lessons will be factored into the planning for next year's Policy Primary, though there are limits to how extensive the process can be when we consider that the Policy Primary is only one component in influencing what motions Labour Party members submit at the local level.
On a final note, the absence of a motion on anti-racism in the top 8 is something that we as a movement need to reflect on. This might mean changing the process to ensure anti-racism is central to our platform regardless of how the voting goes, as well as critically reflecting on the priorities of our movement as a whole. We are currently working to develop additional motions on this issue.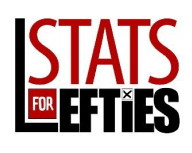 Since Labour's loss in December 2019, there have been plenty of different explanations given as to why we were defeated. The most prominent one espoused by our right-wing opponents is that we lost because we were too left-wing. But is that true?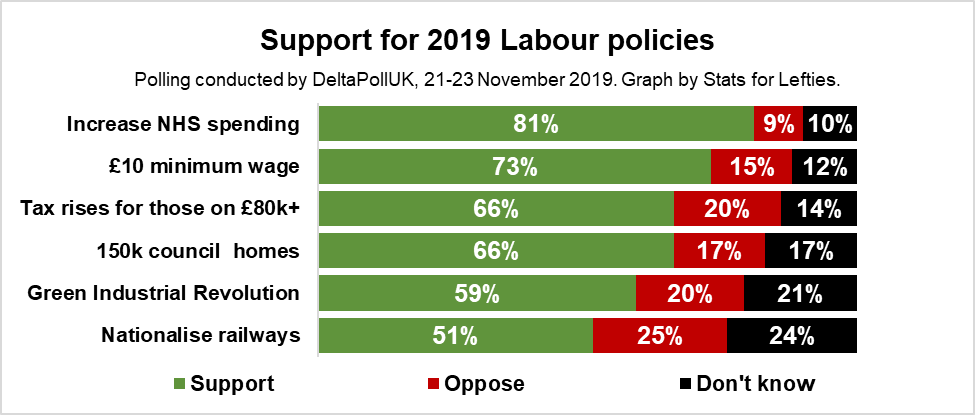 As the graph above shows, Labour's policies had huge support from voters.
And they still do! A recent poll of Hartlepool showed that voters overwhelmingly back Royal Mail nationalisation and free broadband, even though they prefer the Conservatives to the Labour Party.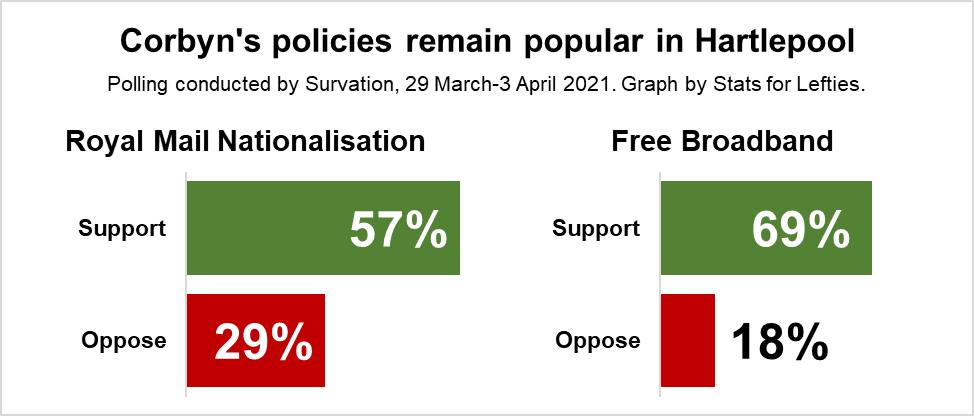 Meanwhile, there's been a huge focus on the handful of voters that we lost to the Conservatives, and the conventional wisdom is that Labour will only win in 2024 by appealing to Tory voters in the 'Red Wall'.
But data from the Electoral Calculus website shows that only 22% of former Labour voters switched to the Tories; 33% switched to other parties, and just as many didn't vote at all.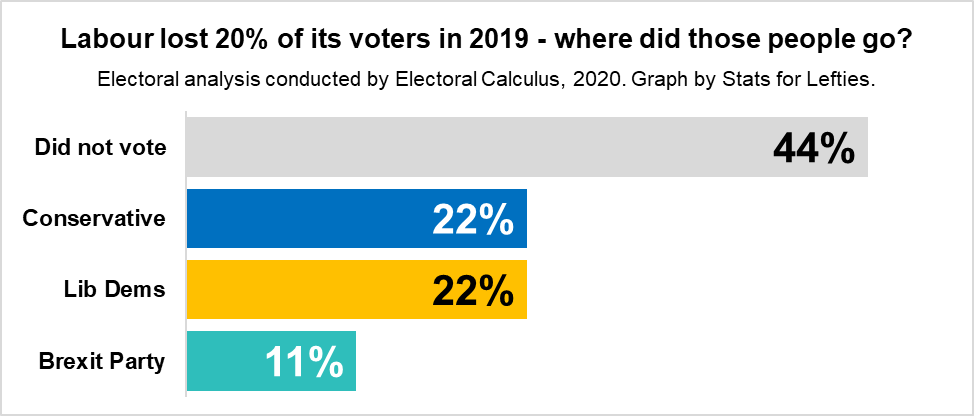 So, in short: Labour's policies were popular in 2019; most of the voters that Labour lost in 2019 didn't vote Tory; and many voters still favour Corbyn's policies today.
As we discuss where Labour should go next, and what policies the Labour left should prioritise, we should keep these facts in mind.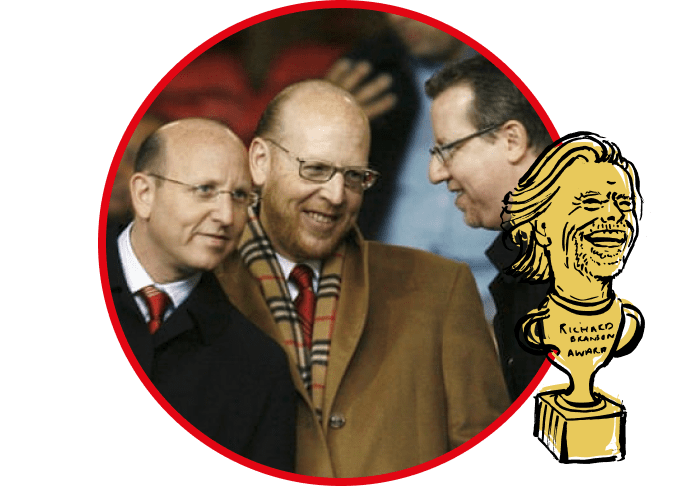 The Glazers
Owners of Manchester United Football Club
In the week we saw just how little the owners of the biggest football clubs care about their fans, there are no more deserved winners of the Class Enemy of the Week Award than everything wrong with modern football personified – the Glazer family.
The Glazers first came to prominence in the UK in 2005 when family patriarch, the late Malcolm Glazer, bought one of England's most successful and well known clubs Manchester United. Malcolm's fortune came through a vast property portfolio – cough slumlord cough – and is perhaps most infamous in the States for building an American Football stadium in Tampa Florida, funded through a tax on the poorest citizens. He achieved this feat by blackmailing the city, threatening to move the team out if his demands were not met. So far, so vulture capitalist.
This brings us to 2005. Manchester United's owners had fallen out with manager Alex Ferguson and were looking to sell. Malcolm and the Glazers, who had already been quietly buying shares in the club since 2003, had a plan. Through using a financial instrument known as leveraged buyout, the Glazers didn't have to use any of their own money to purchase the club, and instead borrowed money against Manchester United to buy Manchester United. In other words, saddling the club with millions in debt without losing any money themselves.
Their buyout was met with resistance from fans, who held protests and some even formed a breakaway fan-owned club FC United. Fans' opposition turned out to be well placed, with the Glazers extracting colossal amounts from the club during their ownership – more than £1bn and rising, while debt levels still remain extraordinarily high at around £500m and Old Trafford sits in a state of visible decline.
With Covid hitting football clubs profits it's no surprise the Glazers were keen to start a European Super League which would eliminate any financial risk of United not qualifying for Europe's top competition, and essentially kill any notion of fairness in domestic and European club football.
We at Momentum were inspired by the scenes of fans protesting the super rich hijacking a game founded by the working class and hope this will be the start of a movement to reclaim football for the fans and communities across the country. In the meantime we hope the Glazers enjoy this coveted award – they've earned it. #GlazersOut
Want to get involved in the fightback against greed in football? Why not sign up to this great event put on by Manchester Momentum – "The fan's game? Peoples vs finance" – held this Friday 30 April. Click here for more details.

In the aftermath of the emergence and rapid decline of the European Super League, there's no better time to listen to our recent episode on the history, culture and radical potential of football fandom. The episode features writers David Goldblatt, Juliet Jacques, Joe Kennedy and Momentum NCG member Callum Bell on organising with the Labour Party against Mike Ashley. This is definitely not one to be missed.
And while you're there, why not take a trip to the boozer with our radical exploration of the British pub in the newest episode in series 2. Click here to listen.
Remember to subscribe so you get the next episode in your feed, and if you like it please share with comrades…
🧑‍🎓 Students Get Organised!🧑‍🎓
At the sharp edge of a broken, marketised system, students are getting organised. This weekend almost 100 of us came together to share strategies of resistance, to imagine a university that is demarketised, democratised and decolonised, and to start planning the fightback.
The 'Transforming the University' student organising school was organised by Red Square Movement, a collective of student campaigns including Pause or Pay, Liberate the University, Young Labour, Rent Strike, and NUS – and was supported by The World Transformed.
Workshops brought together students, academics and activists – including some occupying their unis as we speak! See the full programme here.
The group are planning an event in the summer to continue the fightback. Want to find out more? Email transf[email protected] and follow @RedSqMovement on Twitter.
That's all for this month, comrades. We hope you enjoyed this month's issue. Any feedback you have and ideas for how to make the newsletter better are much appreciated. Don't hesitate to send us an email at
[email protected]
with your thoughts.
In solidarity,
Casper

Sign up for the newsletter that brings you updates from the front line of the struggle

Copyright © Peoples Momentum 2015 –
All Rights Reserved