REFOUNDING MOMENTUM
Last updated 27/06/23
Last year, thousands of Momentum members voted on the refounding proposals that will shape our movement for decades to come. 
We have now implemented these Refounding Momentum reforms to help us better organise for the future, including a brand new constitution and an all-member convention for 2024. 
From our new Organising call with activists to a planned BAME forum shaping our anti-racist organising strategy, we are now more democratic and responsive to our members. 
Furthermore, we have guaranteed there will be no repeat of the 2020 deputy leadership endorsement controversy – any Socialist Campaign Group MP who seeks Momentum's endorsement for the Leader or Deputy Leader positions will automatically go to a ballot of all members. 
What's more, we have already established more democratic procedures for the endorsement of Parliamentary candidates, report-backs for Momentum-backed NEC reps via the Organiser and more representative systems for our internal elections, amongst other changes. 
You can read the full story about how we're implementing the Refounding Momentum reforms in this blogpost from our co-chairs Hilary Schan and Kate Dove.
Every local Momentum group and individual members supported by 20 Momentum members had the opportunity to make submissions with proposals for how we should change and improve Momentum, with a focus on our constitution, structures and ways of organising.
Over the second half of 2021, two specially convened Momentum Assemblies (find out more below) took up these proposals, and through consensus decision-making came up with a series of final proposals to go to a ballot of all members. At the middle stage of this step, interim proposals were published and members submitted further amendments, while the NCG had the opportunity to submit counter-proposals.
Finally, the proposals went to a ballot of all members. You can read all of the proposals that went to ballot here.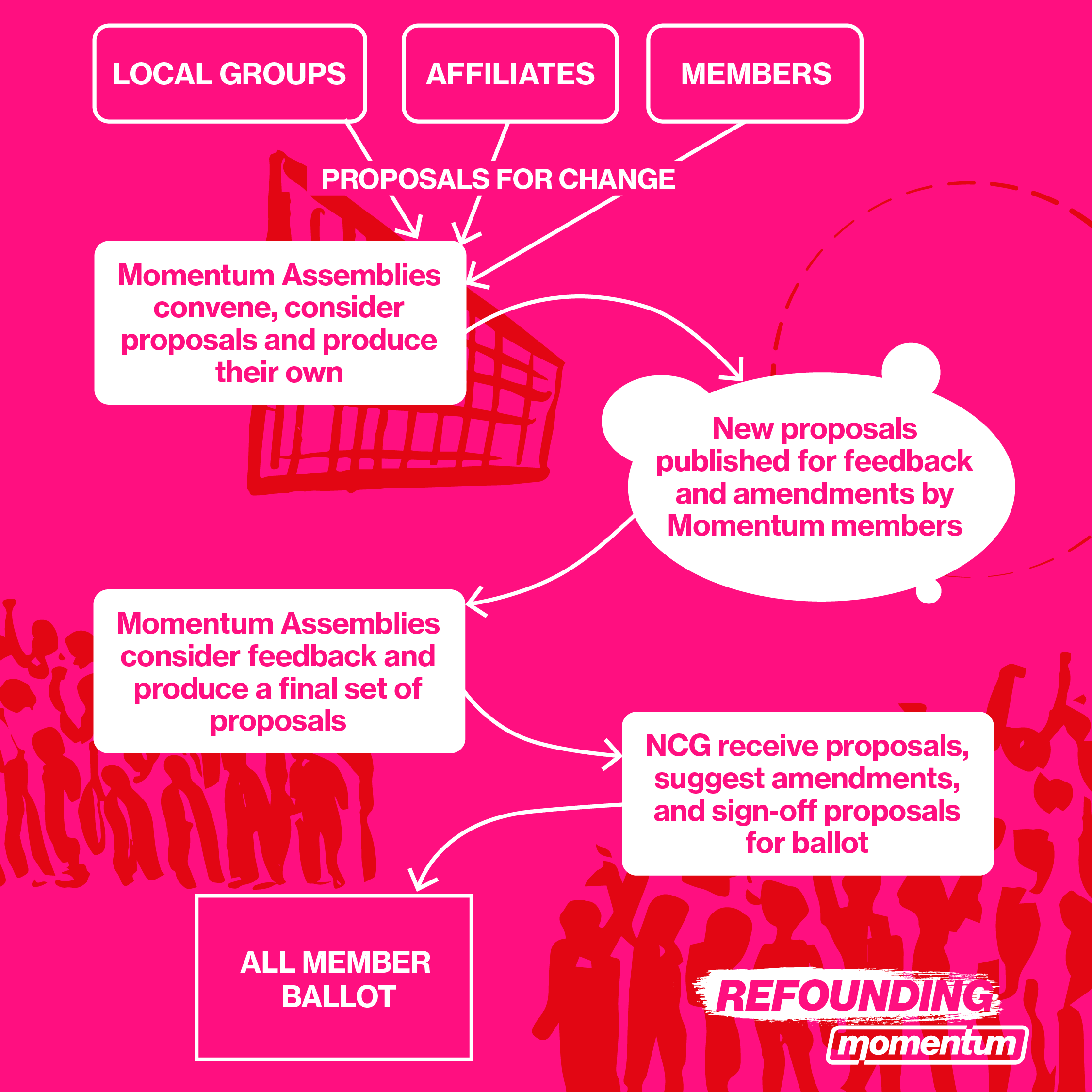 Momentum Assemblies
Momentum is a dynamic and complex organisation, with tens of thousands of members, a national network of vibrant local groups, an elected National Coordinating Group (NCG), affiliated trade unions and 'sister' organisations in Wales and Scotland. Each of these component parts is essential to our success and each has vital knowledge and experience that is essential to building a new Momentum.
That's why we created 'Momentum Assemblies', to bring together all of these voices and to drive forward Refounding Momentum. The Momentum Assemblies formed the centre-piece of our 'Refounding Convention' and they took inspiration from the constitutional convention model.
The Momentum Assemblies included NCG members, representatives from local Momentum groups, individual Momentum members, representatives from our affiliated trade unions and Campaign for Socialism/Welsh Labour Grassroots. They were tasked with coming up with proposals eventually went to a ballot of all members, combining and amending submissions from local groups and individual members.
Composition of the Momentum Assemblies
Each Momentum Assembly comprised of: 
4 NCG members:
1-4 Trade Union Affiliate reps:
1-2 reps from WLG & CFS
8 local group reps (randomly selected from a pool of nominated/elected local group reps, and weighting for diversity and geographical spread)
4 individual Momentum members (randomly selected from a pool of Momentum members that have expressed interest, weighting for diversity and geographical spread)
1 facilitator (volunteer)
Political Framework
To help local groups and members structure their proposals, and to guide the Momentum Assemblies, we created a political framework that outlined some of the key areas of focus. We've divided this into two: one area for each Momentum Assembly. These are:
Politics and People: Policies, Aims, Commitments, Ethics, Representation and Liberation, Labour Party Selections and Elections.
Power and Participation: Local Momentum Groups, Members, Elections, NCG and Direct Democracy, Transparency and Accountability.
You can read the full Framework here.
Timeline
June 11 2020: public launch of the process, and the beginning of a 7 week window for local Momentum groups and members to meet to deliberate and formulate proposals
July 21 2020: deadline for nomination to Momentum Assemblies
July 31 2020: deadline for written submissions to the Momentum Assemblies
August 1 2020: Momentum Assemblies convene, and are provided with all relevant submissions for deliberation. They will discuss and prepare interim proposals
Mid – February 17 2021: interim proposal published. Window for local groups, affiliates and individual members to submit feedback and suggested amendments (closing 21 March )
Late March 2021: Assemblies meet, discuss, factor in feedback and amendments, and prepare final proposals
April 2022: Assemblies present proposals to the NCG at a special March meeting, with the NCG able to suggest amendments or prepare counter proposals to go to an all-member ballot. The Assemblies must meet once to consider any amendments from the NCG
Late April 2022: all member ballot
2023: Reforms enacted 
BE PART OF THE MOVEMENT
Sign up for updates

Copyright © Peoples Momentum 2015 ― 2023
All Rights Reserved