Hello comrades,
We hope you are all keeping well. This issue we bring you news of one of the biggest industrial actions in global history, a rent strike victory in Manchester, a deep dive into our re-founding process, and we catch up with the comrades at Leeds Momentum. Enjoy.
Member revolt. When Keir Starmer withheld the whip from Jeremy Corbyn, our movement sprung into action. According to Stats for Lefties' latest figures, 60 CLPs, four trade unions, one affiliate (Young Labour) and 28 Labour MPs have expressed their solidarity with Jeremy Corbyn. And despite General Secretary David Evans' attempts to warn CLPs that these motions will be 'ruled out of order', the numbers are only rising. Members are ignoring the authoritarian diktats of the leadership and standing up for their right to debate freely.
They shoot, they score. As reported in the last two issues of The Organiser, student rent strike rebellions have begun to pick up pace across the country from Bristol to Glasgow. In Manchester, students won a fantastic victory. An occupation of a university building, and a bolshy campaign, led to the university giving first-year students 30% off their rent for the term. We hope students at other universities are taking notes…
Battle of Barnoldswick. A couple of months ago, Rolls Royce announced plans to offshore the production of Trent engine blades to Singapore, potentially resulting in 350 job losses from the Barnoldswick plant in Lancashire. In response, workers went on strike in early November – but faced a serious blow last week when Rolls Royce announced they were closing the plant over December and immediately offshoring work to plants in Singapore, Japan and Spain. Disgraceful. Solidarity to striking workers facing an uncertain Christmas.
Power in a union. Over 200 million workers across India – which amounts to around 1/7th of the country's entire population – went on strike last Thursday demanding an end to Narendra Modi's anti-worker labour laws. The demands also included a call for the monthly supply of 10kg of food to low-income families and an end to the privatisation of the public sector. Some Indian states were shut down entirely, as millions of farmers also joined the demonstrations to protest against the government's attempts to open up the agricultural sector to corporate interests. To read more on how the Indian left is fighting back against right-wing nationalism, check out this Jacobin article.
• On Black Friday, we joined forces with socialist movements and organisations around the world to demand Amazon pays its taxes. (The multinational corporation has also been named as this issue's coveted Class Enemy of the Week award, see below) To read more about the global campaign, check out 'Make Amazon Pay', here.
• The Labour Party is trying to stop us passing motions in solidarity with Jeremy Corbyn. But what can members talk about? We created a motion generator so you can find out.
• As part of our Future Councillors' Programme, we've helped aspiring left-wing councillors to build knowledge and confidence in online promotion, building turnout, and writing a winning speech. The programme is reaching its conclusion but we are looking at ways of extending it and integrating it with our Councillors' Network
• We organised two well attended rallies in support of Jeremy Corbyn. One after his suspension, which you can find here. And one last Saturday in response to Starmer withdrawing the whip, which you can find here.
• We are continuing to hold re-foundation meetings across the country with local groups. Check out our special report below for more information on how the process is going.
• The left was victorious in the NEC elections! Two of the five winning Grassroots Voice candidates – including Momentum's own NCG member Mish Rahman – took part in a NEC report back last week after they walked out of their first meeting in protest at the leadership's authoritarian crackdown. You can watch it here.
• Southampton Momentum are running a two-part political education series on 'How to be an activist', with the first session taking place on 9 December at 7pm. To sign up, click here.
If you want your local group activity to be included in The Organiser then please email us at [email protected] We'd love to hear from you.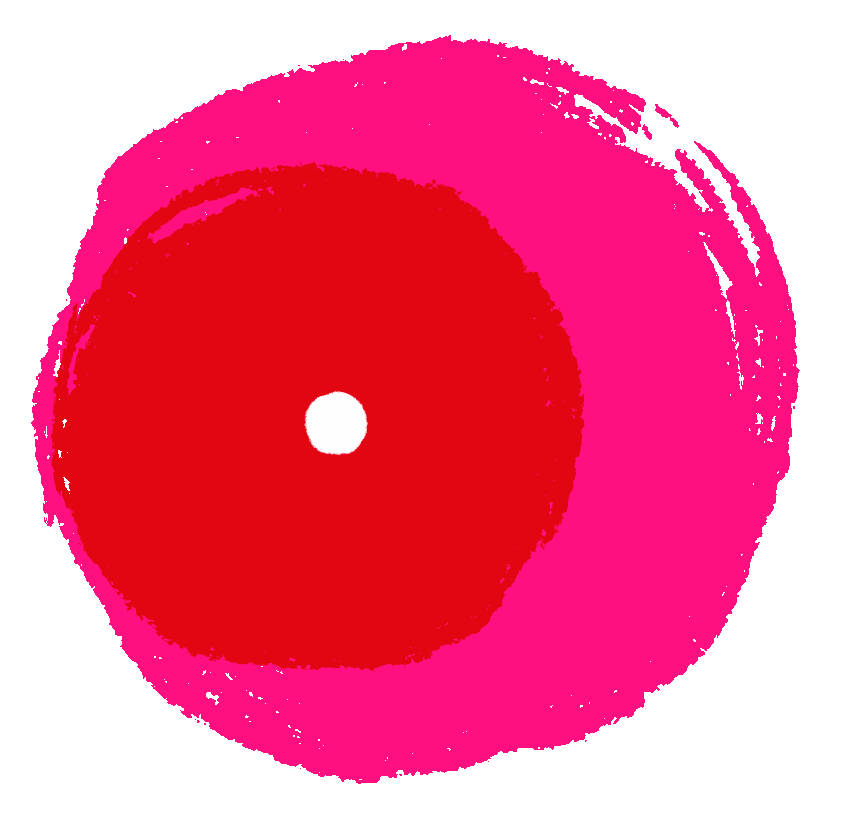 Every issue we will ask members to give their thoughts on different questions facing our movement. For this issue we asked: What do you think a re-founded Momentum should look like? Here are two of the answers we received.
Surely part of why Labour lost in 2019 is just that our opponents were far stronger in the media than us. Although some very good new socialist media outlets have started up in the last few years, their budgets are still too small to have the kind of impact we need them to have.

In its new constitution, Momentum should establish a democratic mechanism giving members the right to vote regularly to allocate a portion of Momentum's budget to the media they most value – as long as that media is free, transparent and ad-free. If a Momentum Media Fund is a success then maybe, in time, other parts of the labour movement could be persuaded to set up their own democratic media funds.

Leo Watkins, Hammersmith and Fulham Momentum
Recent years have seen an increasing appetite for more grassroots democracy in political and civil institutions, and especially for more direct democracy without the mediation of organisational bureaucracy and machinery. This drive to radical democracy is a central pillar of the new NCG's programme for reform. At a time when democratic debate within CLPs is severely threatened, Momentum groups will provide an essential forum for grassroots voices to be heard. But democratising an organisation whose structure is strongly top-down presents a significant challenge.

Democratising Momentum is most likely to be successful if the process of re-founding is itself conducted democratically. Amid increasing disaffection with representative forms, this needs to involve much broader grassroots participation than a delegate conference would allow for.

Besides reinvigorating local groups and developing regional networks, this will entail strategic use of digital democracy, which presents both possibilities for broader participation and challenges for the depth and quality of that engagement. Recent experiments in this domain show how difficult it is to foster genuinely deliberative spaces online rather than mechanisms for ratification. Designing the perfect digital platform is only one ingredient. Others include developing a cogent understanding of the reasons for political disaffection, especially among the working classes, as well as empowering members and communities to foster initiatives from below.

Naomi Walton-Smith, Environment Officer for Camden Momentum
The energy of Momentum comes from its members. So, our new constitution must be skewed towards helping groups build engaging environments to mobilise and retain working class activists and those who are for a transformed economy and politics. Members coming together in community action (e.g. on housing and the environment) need active encouragement and resourcing. A countrywide network of Local Groups will support these initiatives with an empowering place to debate and a questioning political education environment that also supports recruitment. Groups will collaborate across boundaries, and intervene tactically to win and hold influence in the Labour Party, the Trade Union movement and elsewhere.

Whenever another Corbyn-like moment comes, we need to be ready with a movement capable of sustaining it and providing thought leadership. Our practice needs to have space for new ideas, relevant to the many, and mapping a compelling vision of the future. This movement will be respectful of all our members and supporters – especially in the nations and regions of the UK traditionally remote from political decision-making.

The maximum amount of bottom up influence over Momentum through online voting on key decisions and elections (with open selection to invite new participation) will ensure members own the direction, but also a leadership that will be confident in its ability to make decisions that retain maximum support.

Clive Haswell, Momentum Cardiff & Vale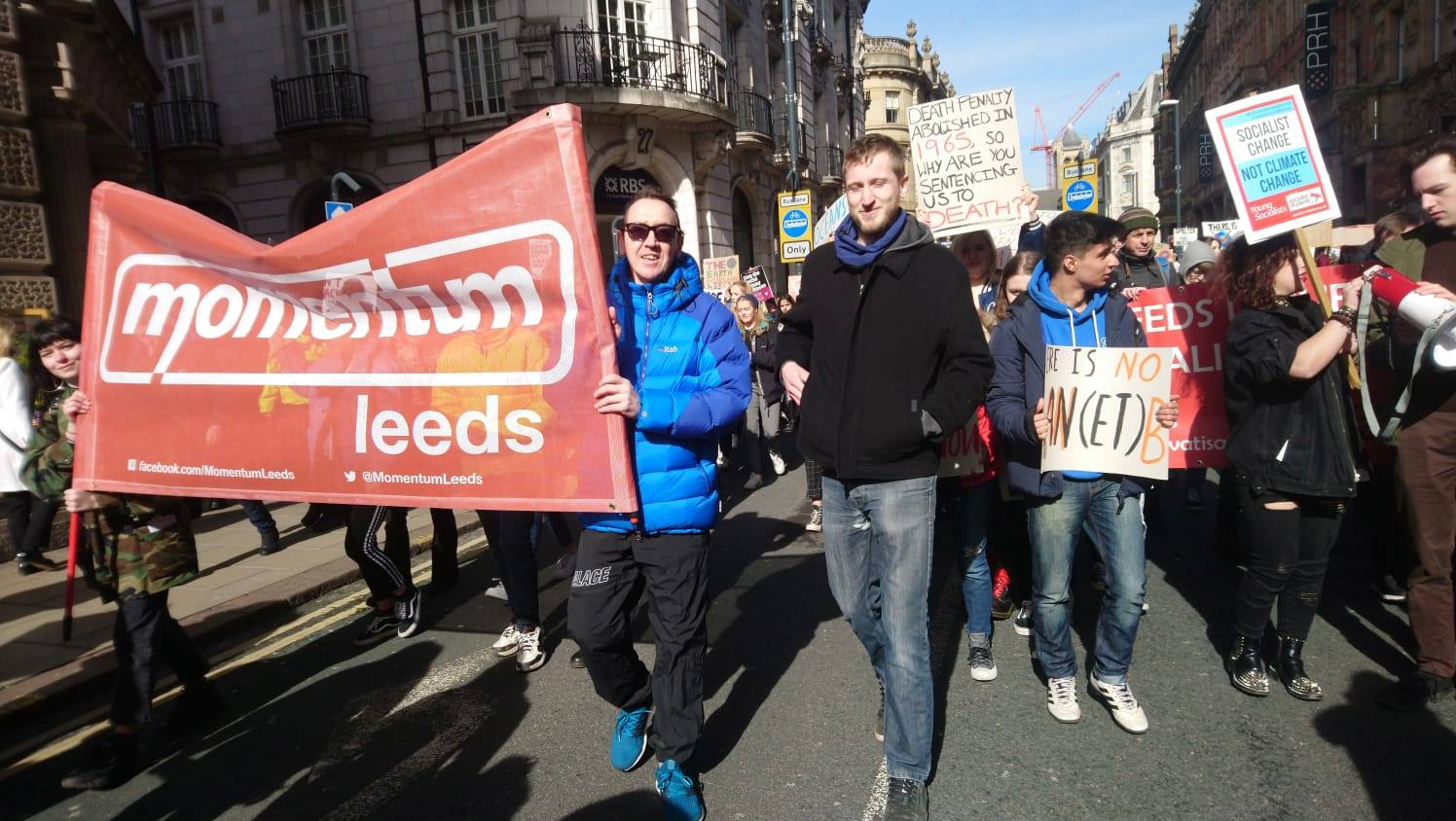 For this month's issue we spoke to members from Leeds Momentum. They talked us through the group's beginnings, its achievements, what it's been up to this year – and why in this tumultuous time it's important for the left to 'keep a cool head'.
What did Leeds Momentum get up to in the early Corbyn years?
A great early example of an early success was when we helped one of our committee members Luke Mitchell win a seat in the local council elections. Here's what the group did in Luke's words: "During the Autumn of 2017 I was preparing to get selected at one of the local branches in my CLP in readiness for the elections. As one of their members on the candidate panel, Leeds Momentum were a great help in assisting me for the selection process. They organised calling round members of Morley South, the branch I had chosen to stand in. They also helped by pairing me up with another local member who was on the panel as well, so we could practice our speeches with one another and answer any potential questions we may have faced. Then once I was selected they supported me throughout my campaign. We really saw the benefit on election night when we managed to kick out one of the local independent councillors and elect a Labour member."
Has the group been involved in any community organising over the years?
Community organising has become a bit of a buzzword, and is something that the Labour Party isn't particularly built for, or understands well.
However, one of things we're most proud of is organising a 'Community Get Together' in South Leeds. We put on free food, music and activities for kids, spoke with local people and registered them to vote. In the last few years in particular the Labour left has had to focus on putting out fires in the Party and responding to issues – snap elections, locals, internal issues. Momentum needs to map out its power and work on grassroots campaigns for material change, alongside building power in the Party.
How would you best describe Leeds Momentum's relationship to the local Labour Party?
Our relationship with the Party varies from CLP to CLP, but we have a great foothold across the city and have some excellent members. We have worked in tandem with the Party to get more socialists involved as well – before Covid-19 we helped organise an event for new members in the city centre. We invited Leeds ACORN, Leeds Anti-Fascist Network, MESMAC (an LGBT+ charity with some excellent comrades), Unite and GMB. We had a free collective meal, quizzes, speeches from local councillors, and sought to onboard members straight in to the left.
With Leeds having 8 constituencies it can be quite difficult to keep up to date with everything that's going on. We keep in regular contact with members across the city to help us stay on top of any issues that arise and may need our help to organise in taking action.
Over the past couple of years since Leeds Momentum was relaunched, we've done a lot of work on political education, training our members and finding out what issues they care about. More recently, we've started summarising CLP activity in our member wide emails so we can all stay up to date and allow our members to self organise instead of waiting for instructions to come from the committee. Hopefully this can help alleviate some of the workload for the committee members and allow Leeds Momentum to be more proactive or reactive when needed.
What is Leeds Momentum up to these days?
Currently we are doing the dirty work of party politics – organising motions, AGMs, selections. We're treating the winter break from Party business as an opportunity to get organised and set up a strong base to build for 2021. An exciting idea from our Committee that we are looking to organise for the coming year is a 'Know your Enemy' training series; educating members on the interests and weaknesses of our opponents.
If you could give any tips to other local groups, what would they be?
Keep a cool head – don't get drawn into petty fights or into our opponent's comfort zone. We have no permanent friends or enemies, only permanent interests as a class. Keep this in mind and support your members to win. Importantly as well, try to enjoy it.
'It's the perfect time to rethink our purpose': A look behind the post-Corbyn re-founding of Momentum
"Momentum has members – but it's never been a member-led organisation. That's what we want to change."
I'm talking to Deborah Hermanns, a NCG rep for London, about the pledge to re-found Momentum. Back in June, the new NCG promised a 'member-led process' that would change Momentum's constitution and give members a greater say in the running of the organisation. But how is the process coming along?
The initial stages, according to Hermanns, have been devoted to engaging local groups and giving them the support they need to "act as collectives". "It's impossible to have everyone taking part in every decision on a national level, so having strong local groups where people can act collectively is essential," she says. "Making Momentum more democratic is not just about changing our structures but also creating sustainable and vibrant spaces where people can organise."
The process of engaging local groups began in August, when there was a national call with NCG members and reps from groups across the country – the first chance for the NCG to introduce themselves but "also for reps to feed into our plans". Since then NCG members and Momentum's Regional Organisers have been reaching out, building relationships and helping to set up re-foundation meetings where groups conduct an analysis of their strengths, weaknesses, opportunities and any threats that are posed (for example: burnout, the leadership's authoritarian crackdown, loss of enthusiasm post-Corbyn etc.), as well as develop a strategy for the next 6-12 months. Where perhaps before there was a one-size-fits-all approach, argues Hermanns, these meetings are an attempt to get local groups to develop a strategy that works for their local area.
Momentum Southampton is a strong local group with a fairly stable membership. They didn't feel the need to follow the model that the NCG had set out as they have their own way of working – but for Secretary Lisa Fricker the re-foundation process has made the NCG "far more visible and accountable to the membership".
"The Labour Party is quite dispiriting at the moment," says Fricker. "It's difficult to motivate yourself to go to another Labour Zoom meeting. But this re-founding has given us the opportunity to focus on re-building the Momentum membership. It's the perfect time to repurpose ourselves and build up our capacity. The NCG has started off the process well – but I'm wary of getting ahead of ourselves. We need to make sure the democratisation of the organisation is carried right through to the end."
Michael Hardy from Liverpool Momentum, holds a similar view. "Democracy in Momentum at all levels is extremely important," he says. "In the past there's been a lack of accountability and transparency but we're excited about the organisation becoming more member-led. We had over 50 people at our AGM the other week electing a 12 person strong committee – which shows there is some newfound energy."
And it's not just local groups that the NCG hopes to revitalise. Another essential plank of the re-founding process is developing Momentum's digital infrastructure. Hermanns believes Momentum suffers from members' inability to talk horizontally across the organisation and the lack of opportunities for democratic engagement – which an online platform could facilitate.
"In Momentum's constitution it says there should be the digital infrastructure to do member-led democracy – but that was never realised," she says. "And so our aspiration – and obviously this will take a significant amount of time – is for MyMomentum to be that platform where you log on as a member, you discuss with people, you can have votes, run primaries and you can have political education resources."
Relatedly, one of the biggest issues raised by local groups with NCG members was their inability to access member data for their area – something Hermanns thinks MyMomentum could help to store. The process of democratising data across the organisation has already begun – since September around 25 Data protection officers have been trained allowing those local groups to more easily access all Momentum members in their area.
So what next? Early next year Momentum groups will feed in policy motion proposals for Labour Party Conference which the NCG will amend and Momentum members will then vote on. Members will be able to vote yes or no to a motion and then rank them in order. "The result will be that we'll have 8 motions that will have majority approval and that we can all rally around as the left platform to push at next year's Labour conference," says Hermanns.
And then in Spring/Summer the re-foundation process will turn to members deciding on changes to the constitution. "We still need to work out exactly how to do that with the resources we have," says Hermanns. "But ideally that would look like having a big online discussion process with members inputting ideas and voting on the final proposals. Fingers crossed we can pull off an energetic, democratic and inclusive event."
If you want to re-found your local group – or even set one up for the first time – then get in contact with Rachel Godfrey-Wood on [email protected]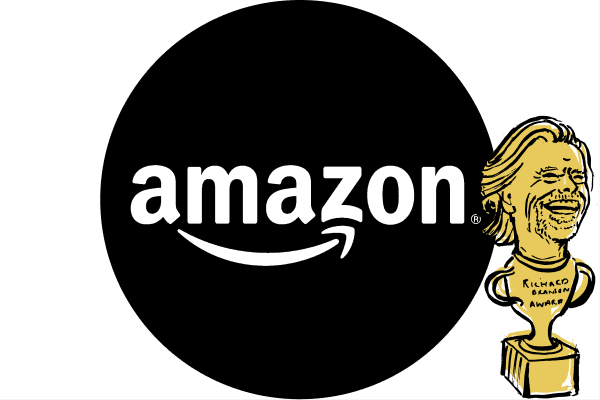 Amazon
The world's most valuable corporation (by avoiding tax and paying its workers poverty wages)
We all knew it was only a matter of time before Amazon received the Class Enemy of the Week award. If anything, we don't know how the tax-avoiding, union-busting, worker-surveilling, community-destroying company avoided recognition for so long.
Amazon founder and CEO Jeff Bezos has the distinction of being the world's first centi-billionaire, and whilst millions have lost their jobs and homes during this pandemic, Jeff's wealth has increased by a staggering $44 billion. For context, Jeff could pay all 876k US Amazon employees a $105k bonus this year, and be just as rich as he was at the start of the pandemic.
How do workers at Amazon fare working for the richest CEO in human history? Well, reports from workers include being punished for injuries sustained on the job, physically gruelling conditions leading to employees collapsing from exhaustion and tracked and timed toilet breaks. It all sounds miserable.
But worsening conditions have led to increased calls amongst the workforce to unionise, with 1500 workers in Alabama voting to go on strike last month. The bosses are getting worried. In October of this year a leaked memo revealed that the company plans to spend hundreds of thousands of dollars to "better analyse and visualise data on unions around the globe". The memo went on to request funding for technology and staff to track and surveil workers looking to unionise. But if workers in an Amazon warehouse in Alabama can do it – in the face of extreme anti-union laws and union-busting – then there is no reason why we can't see similar strikes taking place in the UK.
That's all for this month, comrades. It's been a turbulent time for the left inside the Labour Party over the last month. But the successful NEC results and our show of strength in CLPs in solidarity with Jeremy should give us hope. There is a socialist majority within the Labour Party and in the years to come we can leverage our power to push for transformative policies and left-wing representatives both in parliament and local government – as well as take to the streets and picket lines for the essential extra-parliamentary work that will be required to change the terrain upon which politics is fought.
We hope you enjoyed this month's issue. Any feedback you have and ideas for how to make the newsletter better are much appreciated. Don't hesitate to send us an email at [email protected] with your thoughts.
In solidarity,
Casper

Sign up for the newsletter that brings you updates from the front line of the struggle

Copyright © Peoples Momentum 2015 –
All Rights Reserved